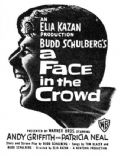 Main Details
Other Details
Media
Publicity
Community
A Face in the Crowd Trivia
Do you like A Face in the Crowd?
Andy Griffith`s film debut. (imdb.com)
Charles Nelson Reilly`s film debut. (imdb.com)
Lee Remick`s film debut (imdb.com)
The Vitajex tablets that Lonesome Rhodes hawks have 6 grains of dextrose, 5 grains of inert material, 2.5 grains of caffeine, and 3.5 grains of aspirin. That`s roughly equivalent to a 16 oz café latte and two baby aspirin tablets. (imdb.com)
The majority of the movie was filmed at Biograph Studios built in 1912 by American Mutoscope & Biograph [us] which is still in existence today. The studio was sold several times throughout the years until it burned down in 1980. (imdb.com)
According to a 1983 interview with the actor, the debut role of Charles Nelson Reilly as a saxophonist did not make the final cut of the film. (imdb.com)
SPOILER: In the "Making of" documentary on the 2005 DVD release of A Face in the Crowd (1957), Andy Griffith says that the inspiration for way that Marcia reveals Rhodes` hypocrisy (by broadcasting his true feelings about his audience after he believes the sound has been cut off) came from the famed "Uncle Don incident," in which "Uncle" Don Carney, a longtime children`s radio host, was supposed to have been broadcast saying "there, that oughta hold the little bastards" into a live microphone after he thought it had already been turned off. Griffith recounted this story as fact, even though it is believed by most broadcasting historians to be nothing more than a widespread and very popular urban legend. (imdb.com)
Who's Dated Who? content is contributed and edited by our readers. You are most welcome to update, correct or add information to this page.
Update Information